Xythic
Planet Information
System
Delao System
Region
Wieos
Species
Jarthin
Population
14 Billion
Language
Jeshin
Affiliation
Holy Empire of Xaanis
Xythic (sigh-thick) is the home world of
the Holy Empire of Xaanis
. Formed over 10 billion years ago by metallic asteroids forming in the orbit of the gas giant Ottuthic. It i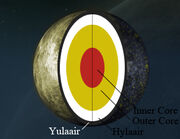 s comprised the Yulaair, Hylaair, and the inner and outer cores.
Xy is under the protection of the United Federation Of Planets. The God-King of the Empire is John Jellal , King of the 7 thic, and Governor of L13.
Ad blocker interference detected!
Wikia is a free-to-use site that makes money from advertising. We have a modified experience for viewers using ad blockers

Wikia is not accessible if you've made further modifications. Remove the custom ad blocker rule(s) and the page will load as expected.