There will be no plundering, piracy or you will face expulsion from UFOP.
If you lie then you will be expelled from UFOP discharged dishonorably.
We will deal with all guilds with honor and respect.
If you are inactive ingame you will face expulsion.
This is the UFOP Mainsite this is for all UFOP leadership throughout Astro Empires to use and to add to. You must be an admin to edit these pages, as they are not for usage by any other than leadership. An unknown division within UFOP will maintain this site on behalf of Jaggen. If you are not a leader in UFOP then you must by order 2202 to cease and to desist.
By orders of our GM Jaggen, we are to create a flowing history of the UFOP. We are to ensure that all details of this are accurate. All UFOP Members are to create their personal Empire's history while certain members ensure's that UFOP's history is current and accurate. UFOP Timeline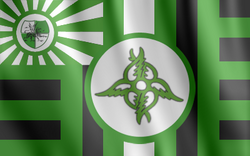 The Holy Empire of Xaanis (San-is) is a small empire located primarily in the L13 Galaxy. It is comprised of 7 different Thics (Xaanis word for planet, moons, and asteroids) of various natures and builds. Read More
Create blog post
News
So for the month of april if your page is selected for featured article of the month then you get a chance at a 1 month upgrade as a gift from Jaggen so Me, and jaggen will select who will get it up.…

Read more >

Ok, so we have opened this wiki up to everyone in UFOP. So now our duty as UFOP is to create the history behind UFOP, and each individual member planets, and empires so by doing this you need to crea…

Read more >

We have skinned this site, and we are also in need of UFOP laws, treaties, and members data. So happy editing admins as only administrators are allowed to edit.

Read more >
See more >